Iselsi Yumita
(work in progress. Sheet format created by Kailan and modified by me for Wikidot markup. Ask her before using it.)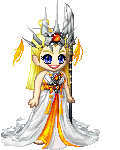 Character Dossier
Name: Iselsi Yumita (AKA Cynis Falen Okudiya, V'neef Girado, Tepet Finsel, Karal Aeden, Teresu Ekodi, Yushoto Jaingha, Hua Mei-xing, Li Bi)
Exalt: Solar
Caste: Zenith
Motivation: Found the Golden Realm as it's Empress
Concept: Secret Agent turned Conquering Goddess
Anima: An orichalcum statue of a winged maiden, descending from silver clouds
Attributes
Physical
Strength 2
Dexterity 4
Stamina 1
Social
Charisma 4
Manipulation 3
Appearance 4
Mental
Perception 3
Intelligence 3
Wits 3
Abilities
Caste
Integrity 3
Performance 3
Presence 5
Resistance
Survival
Favoured
Awareness 3
Martial Arts 5
Socialise 4
Stealth 3
War 3
Other
Archery 1
Bureaucracy 3
Dodge 3
Investigation 4
Linguistics 3 (Native: High Realm, Low Realm, Riverspeak, Forestongue)
Lore 2
Melee 1
Ride 1
Advantages
Backgrounds
Artifact 2
Dire Lance

Precision of Form Gemstone
Cult 3
Worshiped as a deity of righteous war.
Manse 3
Precision of Form Gemstone
Willpower, Virtues, and Intimacies
Willpower: 5/5
Virtues: Compassion 2, Temperance 3, Conviction 2, Valor 2
Intimacies: spying (love), conquest (desire), $WARD (affection)
Limit
Break: Overindulgence
Amount: 0/10
Health and Essence
Health: -0/-1/-1/-2/-2/-4/Incap
Essence: 3
Personal Essence Pool: 14/14
Peripheral Essence Pool: 35/35
Experience: 0 XP
Flaws
*Amnesia 3 (GM's choice)
*Enemy 3 (GM's choice)
*Ward 4 (GM's choice)
Combat Statistics
Defense Statistics
Dodge DV:
Parry DV:
Mental Dodge DV:
Mental Parry DV:
Soak
** Standard: B/L/0A
Attack Statistics
Clinch

Standard: Spd 6, Dmg +0B, Rate 1, Tags C,N,P

Kick

Standard: Spd 5, Dmg +3B, Rate 2, Tag N

Punch

Standard: Spd 5, Acc +1, Dmg +0B, Rate 3, Tag N
Charms
Excellencies
First
Martial Arts
Performance
Presence
War
Martial Arts
White Reaper Style
Falling Scythe Flash
Revolving Crescent Defense
White Reaper Form
Bleeding Crescent Strike
Performance
Presence
Irresistible Salesman Spirit
Personal History
A series of brief excerpts from the Forbidding Manse of Ivy's dossier regarding one Iselsi Yumita, operative of the Unconquered Sun. Much of the file, like that of many non-Sidereal Exalted, is sealed per standing order of the Unconquered Sun.
Personality
Appearance
Height: 5'11"
Weight: 168lbs
Hair: Blonde
Eyes: Blue
History
Name: Iselsi Yumita
Birthplace/Date: Imperial City, Scarlet Prefecture, Blessed Isle; 13th Resplendent Wood, RY 746/IS 4936.
Mother: Cynis Falen Koradu, Terrestrial strain #5932
Father: Iselsi Nasena, Terrestrial strain #6487
Marital Status: Single
Hire Date: 8th day/Lovers, Season of Cerulean Lute, IS 4957.
Trivia/Extras
Coming soon
XP
5
Spent on
2 on Cult 3
page revision: 8, last edited: 28 Feb 2010 22:59